On the back of all those catty sea grass fights, competition was fierce and more than ever Tim and Anastasia needed to come into their own. Although I don't quite think they have evolved just yet, they are well on their way. All couples belted out some ripper bedrooms.
Lets take a deeper look.
Tim and Anastasia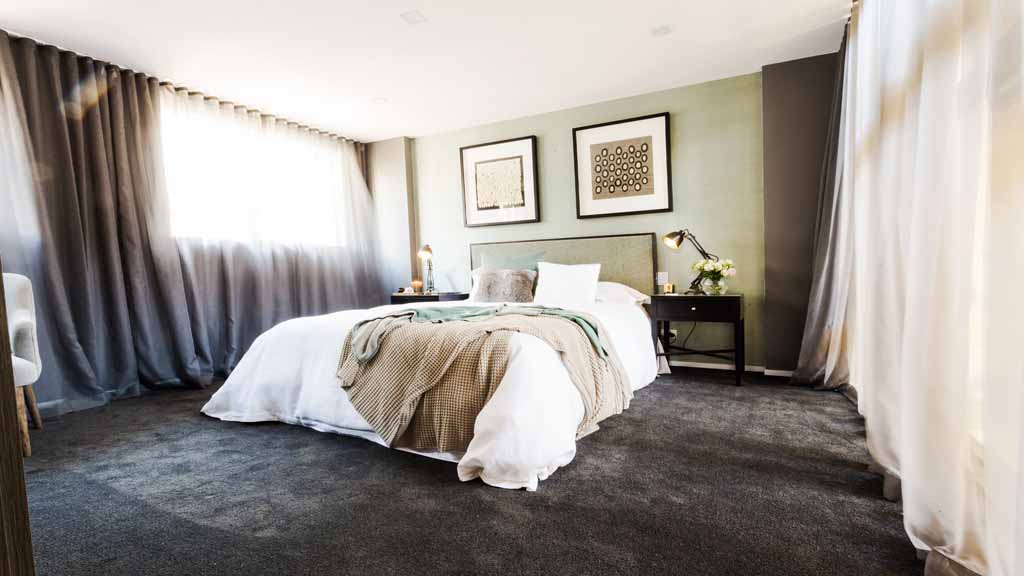 Style Element: Mood & layering tones
This bedroom really replicates a sassy, sexy and warm mood. It's very inviting and just as Shaynna expressed, "You may never want to leave". Many would be too scared to go this dark however, with a few highlights of white breaking up the dark and sultry hues, this can really be a wow factor. It's important to layer a coordinating colour scheme just as much as layering different tones. What do I mean? You see how the carpet is dark but the bedside side tables, bedhead frame and picture frames are darker? The sea grass wallpaper is the same colour but it's lighter than the bedhead fabric and the drapes are in between, matching with the wardrobe? This is the best way to create depth. Layer your tones. Choosing all the same, can feel really weird and sterile like a hospital.
It's easier to see in the black and white rendition here.
As for colour scheme, these are the basic colours. They look different without the tone and texture don't they?